WOW Fest '13 – Another Great Day for the WOW Trail!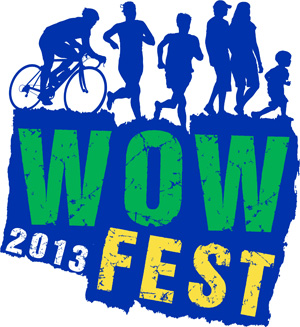 The 5th Annual WOW Fest, presented by Bank of NH, took place on Saturday, September 14th and it was a big hit with over 500 people coming out to enjoy the day.
Our Take the Lake cyclists were there bright and early to kick things off.  It was a great day to ride around Lake Winnipesaukee (67 miles!!) and these folks made it look easy.   Congratulations to all for a great accomplishment.
While the Lakers were off having fun, we were starting to come alive with the help of Big Cat Coffees.  The coffee wasn't just necessary, it was delicious.  Thanks Big Cat!
Catherine Martinez was back again this year with a beautiful rendition of the National Anthem to kick off our Take Opechee 5K and Take Opechee 10K events.  Great job, Catherine.  Check out our full set of race results where you will see our 5K winner, Ashley Hope Linder, with a time of 21:17 (6:51 pace) and our 10K winner, Shaun Dever, with a time of 36:37 (5:54 pace).  Way to go Ashley and Shaun!  And, congratulations to all our runners – well done.
Our Take the Bay cyclists were next up and had a great day to get out there and complete their 15 mile ride around Paugus Bay.   Great job to all of you!
Last but not least, our Take the Trail walkers headed out, led by members of the Laconia Fire Department, to enjoy the WOW Trail.  By this time, a delicious lunch was being prepared by four of our favorite local restaurants: Common Man, Fratello's Italian Grille, Patrick's Pub & Eatery and T-Bones.  A big thank you to these four sponsors and Lakes Region Coca-Cola, Gilford Shaw's, Amoskeag Beverages and Contigiani's Catering.  They made sure no one went home hungry or thirsty!
Our Team Challenges brought out the best in our competitive friends and businesses.  Thank you to the team captains and all the team participants.
WOW What A Team! –  Awakening Chiropractic (Team Captain, Jilian Stogniew, DC, RYT)
We love this team!  They were back with a vengeance and were not going to be outdone.  Thanks to all of these Wellness Warriors that are up to doing good deeds for community health!
WOW You Look Good! – Laconia Fire Department (Team Captain, Stephen Hanser)
To honor the memory of 19 Arizona Firefighters who died June 30th battling the Yarn Hill wildfire, this team walked in forest fire protective clothing while carrying an assortment of the tools and equipment used in battling forest fires — and they looked great doing it!
WOW Green ($$$) Team! – Patrick's Pub & Eatery (Team Captain, Allan Beetle)
Thanks to a great group of employees and patrons of Patrick's Pub & Eatery.  Team Patrick's raised $1221 for the WOW Trail almost entirely from the amazing fundraising efforts of Debbie Herrington and Vinnie Boulanger.  Thank you!
WOW Cup! – 5K – Awakening Chiropractic (Team Captain, Jilian Stogniew, DC, RYT)
This team is speedy (and really good looking, too!)  Another Cup win surely has to do with all that good body work that takes place over at Awakening Chiropractic.  The honor goes to their three fastest 5K finishers:  Matt Hashem, Seth Wilkinson and Dr. Craig MacFarland!
WOW Cup! – 10K – Patrick's Pub & Eatery (Team Captain, Allan Beetle)
Allan stacked the team with a few fast ones in an effort to beat out the Cup favorite (you know who you are).  Way to go to their three fastest 10K finishers:  Bill Cotter, Marylou McIntire and Tracy Vaughn!
This great event for the WOW Trail could not have happened without our great team of volunteers, our sponsors and the participants…thank you all!
View event pictures by volunteer photographers Mike Gagnon and Judi Taggart – (thanks for the great pics!!)
---
About the Trail
The WOW Trail is a  multi-use, non-motorized recreational pathway in the City of Laconia.  The proposed pathway is just over 9 miles long, stretching the length of the City to the Meredith and Belmont town lines.  The WOW Trail will be constructed adjacent to the railroad tracks used by the Winnipesaukee Scenic Railroad. The trail will be 10 feet wide and paved.
The first 1.3 miles is complete!  The Grand Opening was held on May 15th, 2010.   Phase 1 begins adjacent to the Lake Opechee Inn & Spa in Lakeport and ends downtown at Main Street, adjacent to the Library. A portion of the first phase, located between Bisson Avenue and Lyford Street, is adjacent to Messer Street.  In this area, the sidewalk was widened and bike lanes added to the roadway.   Laconia DPW was extremely helpful in accommodating the trail design and construction on Messer Street.
Phase 2 of the WOW Trail will run from Downtown Laconia at North Main Street to the Belmont town line.  A short section of bike trail already exists at the Belmont town line and Route 3.  The NH DOT built this short section of trail in anticipation of connecting the Laconia WOW Trail and the Town of Belmont's own BRATT trail.
Using the Railroad Right of Way
Snowmobilers will access and use the railroad tracks in the winter months as always.  All others are to remain off of the tracks and on the trail.  It is dangerous and trespassing to be on the tracks.
Design and Safety
A four foot high continuous fence will run between the trail and the active railroad tracks.  The fence will be elevated six inches above the ground to accommodate the movement of small animals.  The fence is CURRENTLY required by the NH DOT Bureau of Railroad, however, DOT has verbally agreed to allow split rail fencing in specific areas along Phase II. We will continue working on other alternatives.
Trails next to active railroads are increasingly common in the United States, with over 100 rail-with-trails in existence to date.
The Laconia Police Department conducts bike patrols of the WOW Trail.
---